Tampa Bay, FL, lies on the Gulf Coast of Mexico. It is home to approximately 385,000 residents and is currently the 52nd most populated city in the nation.

The city was a military hub in the late 19th century and was also famous for its booming cigar industry due to its proximity to Cuba. It was formally incorporated as a city in 1887, and its current-day economy is bolstered by the tourism industry, the maritime industry, health care, finance, insurance, technology, and construction, to name a few.

Tampa Bay is just one component of the Tampa/St. Petersburg/Clearwater metropolitan statistical area, which has more than three million residents in total. As a result, it is the second-largest metro statistical area in Florida and the fourth largest in the Southeast, topped only by Washington, D.C., Miami, FL, and Atlanta, GA.
The
median home price
of Tampa Bay real estate is $439,000, which is up from its prior-year high of $385,000. It is in a seller's market, which means there are fewer Tampa Bay homes for sale than there are interested buyers.
Downtown Tampa offers residents and visitors an amazing array of entertainment, sports, and outdoor activities. The 4,327-seat
David A. Straz, Jr. Center for the Performing Arts
presents live shows, opera performances, and dance presentations. Nature lovers can plan a visit to
The Florida Aquarium
, which houses more than 14,000 marine animals. The city has multiple waterfront accesses and parks/green spaces for outdoorsy people or those who just want to relax and people-watch. Along with the varied activities come different neighborhoods for different lifestyles and life stages.
1. Beach Park
Beach Park is an affluent neighborhood offering Tampa Bay real estate with about 4,100 residents. The median home price here is about $820,000, and it is mostly residential in nature. There are a handful of local businesses that cater to residents, most of whom are at least 40 years old and prefer the peace and quiet of the suburbs. Popular eateries include
Cali
and
Fresh Kitchen
, both of which offer tasty, healthy veggie and protein bowls along with fresh, cold drinks with island flair.
2. Hyde Park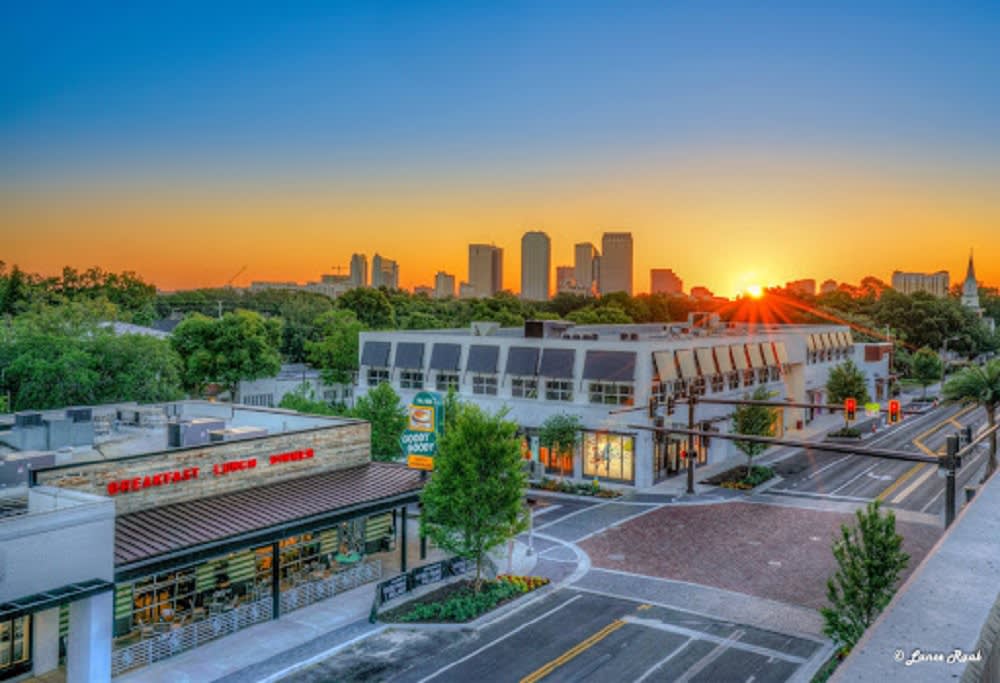 Photo courtesy of Hyde Park Village
Tampa Bay homes for sale in Hyde Park offer a popular community for all families, young children, and the not-so-young. It has a population of just over 10,000 residents, and the median home price is about $611,000. This affluent community boasts 19th-century architecture and tree-lined streets that speak of a more genteel time in history. There are about 10 elementary schools in the area, as well as verdant parks and green spaces for families to enjoy, including the Bayshore Linear Park Trail. It features a 4.5-mile-long waterfront walkway where visitors can walk, jog, bike, or walk their dogs.
3. Bayshore Beautiful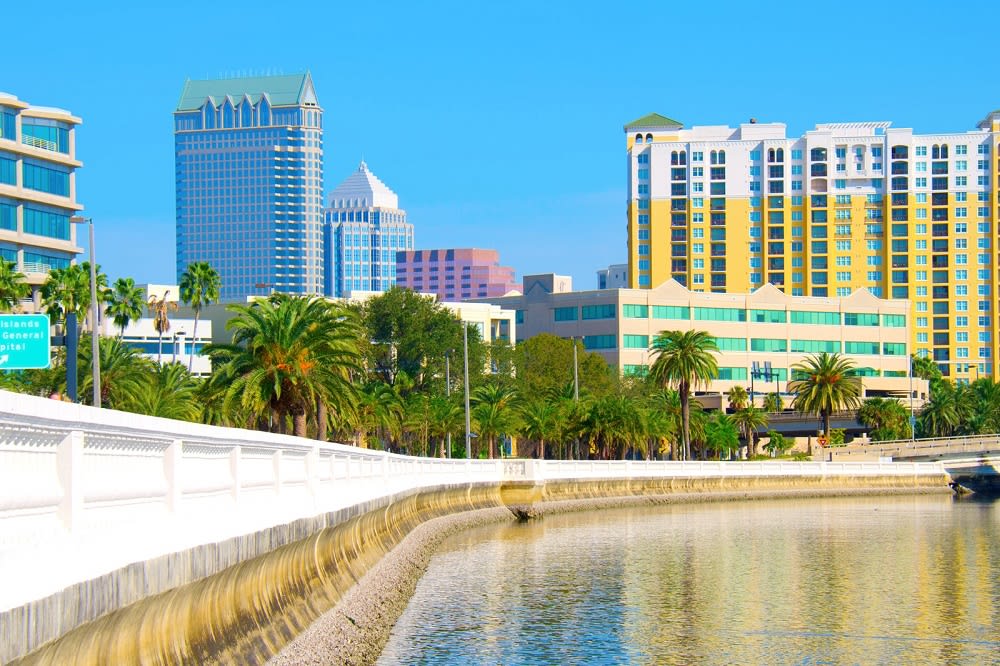 With a population of about 7,100 residents, Bayshore Beautiful offers homes, condos, and townhomes to suit any family size, from small to large, and everything in between. Its median home price is about $700,000, and the neighborhood offers a large YMCA for sports, outdoor swimming, and classes. There's a large mall nearby, with a big-box supermarket, a movie theater to escape to on hot summer days, and lots of unique restaurants, including
Mad Dogs and Englishmen
, where hungry diners can tuck into yummy favorites such as sandwich wraps, fish and chips, pizzas, burgers, and crisp, fresh salads.
4. Cory Lake Isles/Arbor Greene
Cory Lake Isles and Arbor Greene are two separate neighborhoods with Tampa Bay homes for sale. Standing side by side, they offer a slew of outdoor recreational activities that most families delight in. The prices of Cory Lake Isles homes average $850,000, while Arbor Greene homes have a median price of $550,000. In either of these neighborhoods, you're adjacent to the
Hillsborough Wilderness Preserve
, which is ideal for hikers, bikers, joggers, and walkers. You'll also enjoy hunting, fishing, camping, boating, canoeing, and equestrian trails for an afternoon of horseback riding. Both neighborhoods are tightly-knit, welcoming, and family-friendly.
5. Harbour Island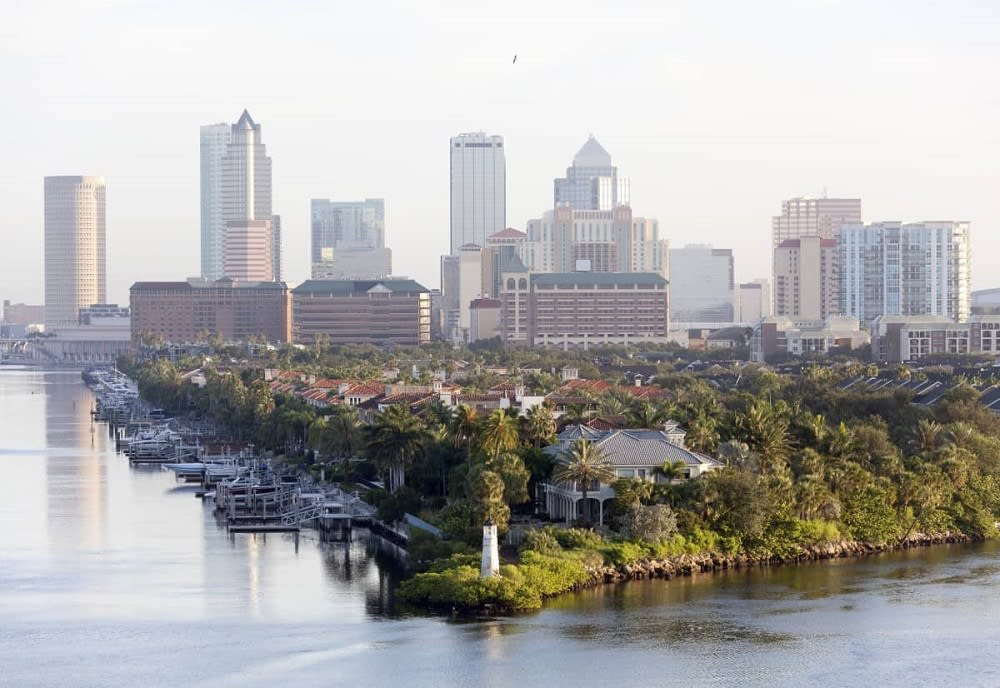 Harbour Island is ideal for homeowners dreaming of their own private island! With a population numbering a quaint 3,533 residents, you can cross over a short bridge to the mainland by car, trolley, or water taxi. The median home price of Harbor Island real estate is about $667,000, and the island offers dwellers a variety of single-family detached homes, townhouses, and apartments to choose from. Many eateries and shops are located nearby, as well as a dog park, so Boris the bulldog doesn't have to stay cooped up in the house all day.
6. Sunset Park

With a median home price of $1,185,000, Sunset Park is one of the most exclusive neighborhoods in Tampa Bay. With just under 3,900 residents, this upscale neighborhood is famous for its waterfront properties as well as "water adjacent" properties nearby. A 15-minute drive from downtown Tampa, Sunset Beach is a quiet neighborhood ideal for families and couples who appreciate their peace and quiet. Notable in this neighborhood is its highly rated schools and properties with generous yards. If your "kids" are now adults, you can have the backyard all to yourself and build a she-shed, a man-cave, or set up a gaming gazebo for card games, trivia games, or just dining al fresco.
7. Riverside Heights
With just under 2,800 residents, Riverside Heights is the epitome of "charming." Here, the median home price is about $427,000, and the neighborhood lies on the east side of the Hillsborough River. The neighborhood is mainly dedicated to housing but has three local parks where residents can walk their dogs, play Frisbee, or picnic with their families. If you need a break from the summer heat, visit
Water Works Park
to cool off in the pool.
Find Tampa Bay real estate in your ideal neighborhood
Local Realtors like
Jason McIntosh
are experts in buying and selling Tampa Bay real estate and are eager to help you find the perfect neighborhood for you and your family.